Coachman Go Gold with 2 Amazing Award Wins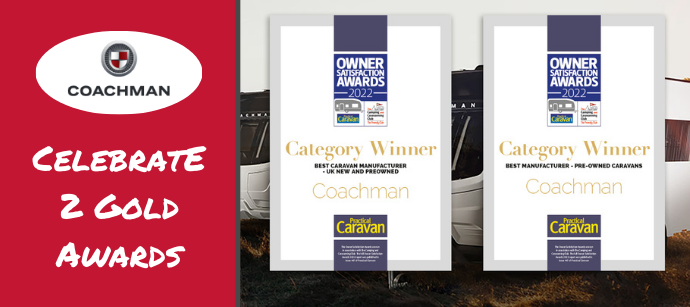 Christmas came early for Coachman Caravans who recently celebrated two Gold Awards at the Caravan Owner Satisfaction Awards for 2022.
The Coachman Caravan Company Limited were awarded Gold in these two categories: Best Caravan Manufacturer – UK New and Pre-Owned and Best Manufacturer – Pre-Owned Caravans.
Winners of the 2022 Caravan Owner Satisfaction Awards were announced at the Practical Caravan, Practical Motorhome and The Camping and Caravanning Club's annual industry dinner at the Coventry Building Society Arena.
Check out our Coachman model collage!
A statement from The Camping and Caravanning Club said: "Following the disruption caused by the Covid-19 pandemic, we chose not to run these awards in 2021 and kept our survey open for a second camping season.
"One of the benefits of running this year's survey over two seasons is that we have a bumper crop of responses. For 2022, these Awards are based on the collected wisdom of 3,449 owners, up from 2,848 last year. With a bigger sample size, we believe our Owner Satisfaction Awards are more robust than ever."
The Caravan Owner Satisfaction Awards are unique within the industry and honest feedback is received from thousands of Caravan owners across the UK who complete the extremely in-depth survey. Their own experiences and aims are used to help customers when considering a purchase now or in the future.
You can read the full results from the 2022 Awards Ceremony on The Camping and Caravanning Club website.
Campbells Caravans are both very proud and delighted to be a main dealer of the award-winning Coachman Caravans – a huge favourite with Caravanners since its establishment in 1986.
The Coachman brand is renowned for its exceptional craftsmanship and its top-quality build and design. They have released 24 new stunning Caravans for the 2022 season and sell them right here at Campbells – check out our stock today.
You can also find out more about Coachman Caravans by visiting their website.