Bailey Take 'See the World Differently' to a New Level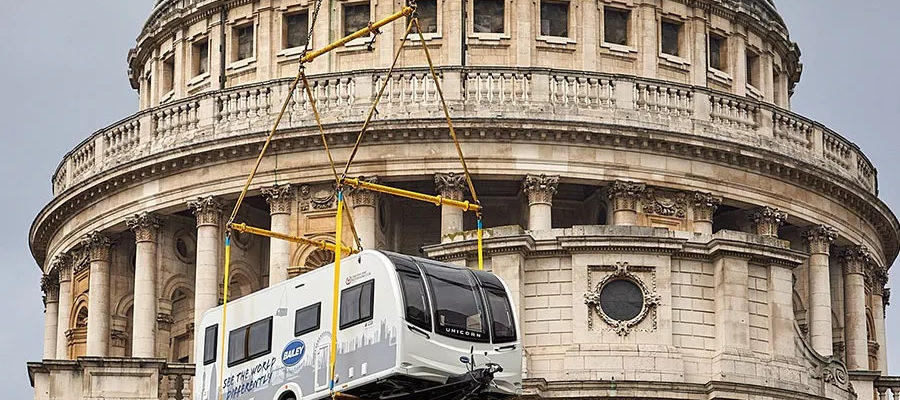 See the World Differently – that's the Bailey of Bristol motto – and, thanks to Bailey Caravans, people certainly saw the world differently in London recently.
During the pandemic, there has been a British boom in caravan and camping interest, and Bailey wanted to celebrate the peoples' passion.
The best way to do that? Suspend a caravan above the streets of England's capital city, of course.
A Bailey Unicorn Vigo caravan was hoisted above St Paul's Cathedral in London by crane, before being placed on a specially prepared high-level roof terrace at One New Change Shopping Centre. The incredible position overlooked St Paul's and the beautiful city skyline.
In conjunction with the Caravan and Motorhome Club, Bailey held a busy day of radio interviews from the caravan and also used the unusual venue to host media events with TV presenters, Olympians, Paralympians, athletes and other celebrity guests.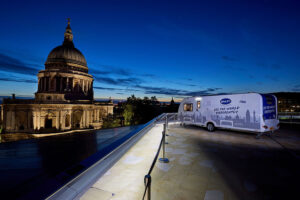 These guests included Matt Allwright, Gary Mabbutt MBE, Peter Shilton OBE, Tony Cottee, Mallory Franklin, Emma Wiggs MBE, Rowland Rivron, Andy Torbet, Julie Peasgood, Debbie Arnold and Dee Anderson.
Two lucky people spent the night in the sky and enjoyed stunning views of the cathedral and London through the Bailey Unicorn Vigo's spectacular Infinity Window. The event has received national press coverage.
Speaking about the promotional event, Nick Howard, Managing Director of Bailey of Bristol, said: "Craning the caravan onto a London rooftop has been a great way to celebrate an exceptionally busy and challenging year for us all.
"We love doing events like this to challenge people's perceptions of caravans and caravan holidays. Previously, we've towed caravans across Australia, done a winter trip above the Arctic Circle to see Santa in Lapland and seen 21 countries in 21 days on an epic road trip to Istanbul and back!"
Get in touch about Bailey Caravans and Motorhomes
Campbells Caravans is proud to be a main dealer of Bailey Caravans and Motorhomes. If you're interested in the Unicorn Vigo model, or any of the Bailey Unicorn V range, please get in touch with our Sales Team by calling 01772 627 627.